★

★

★

★

---
GirlGoGames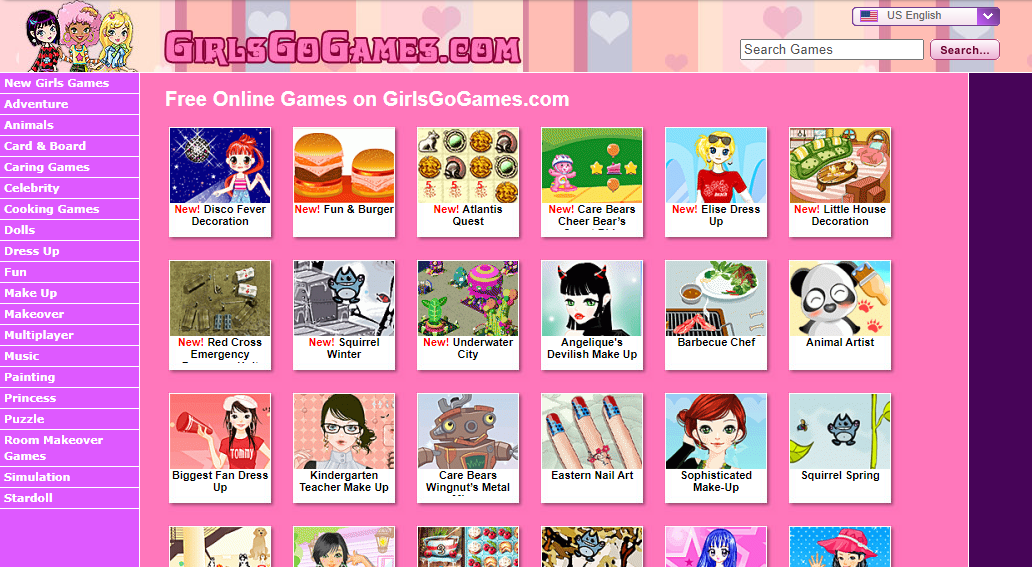 Girlgogames was a website that I frequented in 2006 up until 2014 (family computer broke didn't get laptop access until 2016). I can say for sure for real that this was the second website I was visited as a kid. (well my sister did I was just watching over her shoulder). The first was one connected to yahoo mail? I think it was roiworld or similar since it had the korean dress up games. BUT IM NOT HERE TO TALK ABOUT THAT. Girlgogames was essential to my being. All those cute dress up games and uphill rush 2 girls and room designing games were my life! I hadn't thought about it until recently when I came across some games that I thought were lost. All you gotta do is download the flashpoint (available on Newgrounds) and check it out here and here. The developer page *smirk
Something interesting to note is that Professor Purse one of my favorite games, had different ratings. Professor Purse is basically a quiz game that alsos you to design a purse and put items in it and it will asign you a character daily. Usually I got Creative Callie or Felicity Fix it. What I mean by ratings is that when I played on Newgrounds it asked me how old I was and some of the options for the purse were condoms, birth control, tampons, lingerie, and a pregnancy test. These weren't available on the Girlgogames site so it makes me wonder what the intentions were with this more "teen version".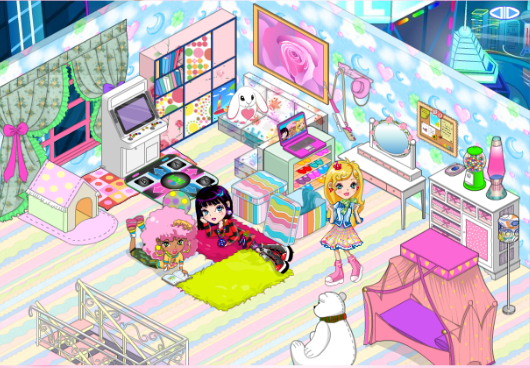 a room I made (phd in interior design yall)
Stardoll
Back in the day Stardoll and other virtual worlds like Elsworld and Super Secret would um partner up. Back then they felt like giants! Its crazy to think about how popular Stardoll was and how active it used to be. I'd make a page on Stardoll but I think I can briefly talk about it here. Some key memories were dressing up Celebrities, pretending to be 13, and going in chat rooms to argue with girls. Stardoll was the place where I first interacted with strangers online and damn it would get brutal. Girls would make fun of my pink haired doll and say it looked like it was dipped in kool aid and then I'd go back and change it red or green or blue. I was obsessed with hair dye. Looking back I was the instigator for most of my online battles. It got to a point where a girl threatened to have her dad (who was in prison btw) fight me. it didn't scare me though I just told her to calm down. After enough of my stardoll arguments my sister got mad at me and I deleted my account cause I didn't want to get in trouble. Rest in peace splendid10. Stardoll was iconic though I wish I knew how things would end up so I could appreciate it more. Theres no other places where you can customize a doll to the same extent as Stardoll. You can't apply make up or buy nice clothes or own a house nowadays!
SuperSecret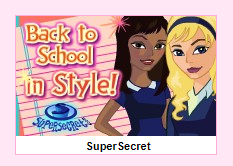 Now this leads into Super Secret. I found super secret through girlsgogames and its another virtual world with the same type of open world dressing up decorating except it was way more unique. You'd level up by aging and the worlds had fantastical elements. My favorite concept from the game was selling items because sometimes you'd have the option to click and look in certain places and you'd come across a rare item to sell. I think the rarest thing I found was some sort of compass that was really expensive. I would make accounts every week because unless you had membership you'd only peak at age 12 and then things were boring. I enjoyed the grindset of making new characters kek. Unfortunately Supersecret was one of the first virtual worlds to get commercialized cause they updated their look to 3D and it looked like ass. No one played it ever again I think.
MovieStarPlanet
I didn't spend a lot of time on this site (a few months at most) most vivid memory is being asked out by Cuteboy3614. The features were really cool though so I could see why it got more popular. Even my physical friends knew about it and they never seemed to frequent the sites I went to.
---
Misc (this section was made long ago on a seperate page)
email stuff?
I remember back when my mom knew how to use the computer she would put these games for me and my sister. At that time I didn't know how to use the computer so I would watch my sister play. The games I remember playing was a
spongebob
digging game,
a cat-dog marriage dressup
, and a marriage dressup. My sister would usually do roiworld dressups.
I remember my parents would use hotmail a lot. My dad would watch dragonball clips but he wasn't into em. I remember my dad was emailing my uncle and I wanted to send a message so I keysmashed and sent tons of heart emojis. My parents were charmed by my pathetic attempt of a message. I was around 3-4 years old. I also remember that gif of a stick dude smashing his head with the keyboard. Lil mia was fascinated.
2007-9
I finally learned how to use the computer at 5 years. I didn't know how to read so I begged my sister to type for me and I would press random buttons. My first lesson of the internet was to
never
click ads! The sites I used were The Doll Palace and GirlGoGames.

My favorite games were Lagoon Quest,Sonic Character Creator,Sonic RPG, and prolly more.Unfortunately The Doll Palace fuckin died and I hate GirlGoGame's new layout so I rarely visit.
OOf
I played Poptropica, Stardoll, Moshimonsters, and Super Secret. I would always forget the passwords though so I made tonz of new accounts.
My favorite games to play were RPG's, tower defenses, shooting, and horror games. I loved the Bloons Tower Defense series and I still play every now and then.My sister loved escape games so I would watch her. A game I vividly remember was
Darkness Escape
. This game was spooky and took place in a house, hospital, and train.
I remember when I finally got computer access I was so sad cuz girlgogames was so busted. It was full of ads and elsagate games and shit. No one wants to play baby tooth and feet surgery games. Hell I remember when there were real surgery games that somehow weren't graphic but I still had lots of fun with those. I hated the layout too so bad. You can tell when something is displayed to sell and the page was absolutely stuffed with games and ads. Girlgogames had been.. commercialized in the worst way possible. Don't get me wrong I know GGG had lots of collabs with other games and ads but it wasn't so obvious until the changes made in 2016. Girlgogames is still up despite flash being gone. I don't think it'll last in its current state.
Check out one of my fave youtubers Izzzyzzz! She talks about a lot of my childhood interests more in depth >;3.